Meet Josh Montross, LMT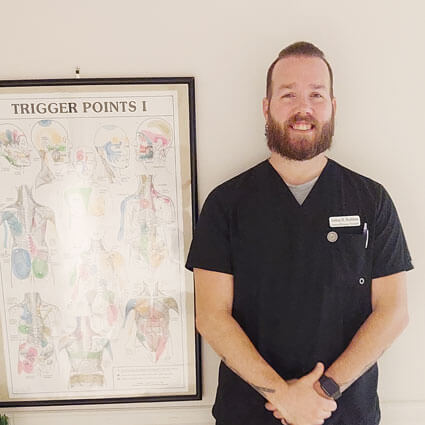 Before embarking on a career in massage, Josh worked in residential health care for over a decade. He's also worked in retirement homes and served as a med tech in a dementia unit.
His interests in anatomy, kinesiology, and working with people made massage therapy a natural career choice. Josh has also done martial arts since early childhood, and notes that many techniques used in massage therapy are derived from martial arts techniques.
Before becoming an LMT, however, he originally used massage to get his foot in the door to be a physical therapist. What Josh didn't expect was that he'd love massage therapy so much. To prepare for his career, he earned his certification from Metro Beauty Academy.
Helping Patients Function & Feel Better
"I always tell people I'm not the guy that pets you for an hour. It's not a spa. I'm the person who tries to help you function better." Josh has a deep understanding of how to help people and always seeks to get the possible results for patients.
Outside the Practice
When he's not at the practice, Josh enjoys being a happy father to his young child. He also likes to work on cars, rebuilding, then modifying them for fun. He does actual engine work and likes to take things apart, figure out how they work, and put them back together. "I've always been like that. I did that with computers and TVs when I was a kid. I like to know how things work."
Josh also enjoys music and has been singing his whole life.
Book an Appointment
Experience the incredible benefits of massage. Contact us today to schedule a session with Josh.

Josh Montross | Comprehensive Chiropractic