Chiropractic Care
Your body has an internal system, which allows it to take care of and heal itself. When trauma, stress or disease occurs, it can block the body's natural ability to self-heal. Our Allentown Chiropractors focus on maintaining the natural well-being and optimal health of our patients through chiropractic care.
What Is Chiropractic?
When asked to explain chiropractic to a new patient, we like to use automobile care as an analogy. To keep your car well-maintained, it needs routine tune-ups. When you hear something that doesn't sound right, you get it checked out.
Chiropractic care does that for your spine and the body in general. Pain is an abnormal sensation to alert us when something is not right. There are many ways to get to the source of the pain; chiropractic is musculoskeletal-driven.
Our chiropractors ensure your muscles and bones are functioning properly allowing you to feel better, move better, and do what you want. This helps prevent injuries and, if they do occur, to heal faster and shorten your recovery time.
Quality Care Has Its Benefits
Chiropractic is holistic, functional-based care. When your spine doesn't move correctly due to misalignment, vertebrae are restricted. With quality care, we correct the problem and restore function in the spine. We're not treating symptoms; we're addressing the root cause of your pain.
Here are some common conditions that patients have that often improve with chiropractic care:
Back/neck pain
Headaches
Sciatica
Sports injuries
Digestive issues
Pregnancy discomfort
Pediatric conditions
Whatever issue you're dealing with, we are confident that chiropractic can help.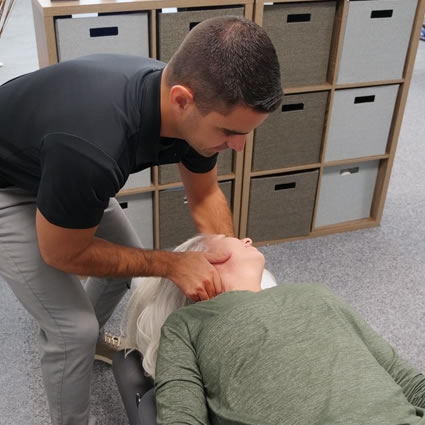 Our Techniques
We may use a combination of techniques for the best results. We use a variety of manual manipulation techniques including Diversified and Thompson Drop. The Activator® tool helps us in the areas that hands can't reach.
For soft tissue solutions, we use the Hypervolt™ tool to break down adhesions, manual mobilization techniques and manual soft tissue work. Taping has proven to be of value for our patients, and not just in relation to sports.
No matter which technique is used, chiropractic care treats the source of your problem and gives you the relief you've been seeking.
Get Started Today
Chiropractic care moves past the symptoms, right to the core of your problem. We offer a complimentary consultation to discuss your problem and make sure chiropractic care is the right path for you. Contact us to make an appointment for your complimentary consultation.
Book Your New Patient Appointment 

Chiropractic Care | Comprehensive Chiropractic